Mobile internet use is growing rapidly, with about 205 million mobile data users in the United States1. In recent years mobile devices have become much more sophisticated, and frankly, much more useful. The mobile web is no longer a novelty.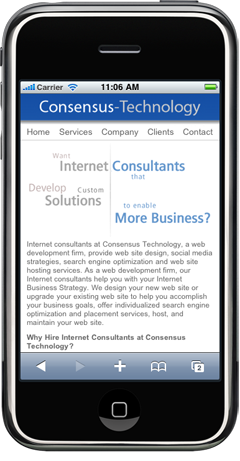 Three years ago we took our first steps in making our own site "iPhone friendly" by adding an alternative to the Flash-based navigation, to be used when a browser doesn't support Adobe Flash. This simple change made our site usable, but zooming and scrolling in two directions isn't an ideal experience.
We're usually so busy working on clients' sites that our own site gets neglected, but recently we took the next step and created a simplified version of our site that's optimized for mobile devices. If you go to www.consensus-technology.com on any of the popular smartphones you'll be automatically redirected to this optimized site. It has the information we think mobile users are most likely to want, presented in a very straightforward way.
The footer of each page contains a large "View Full Site" link so users can easily get to everything, but the things they're most likely to want are now much easier to find. For instance, the mobile contact page lets them 'tap' to call us, and includes a link that opens the Map application to find our location and get directions. (If a particular phone doesn't have this feature then it will open Google Maps instead.) As we gather statistics on how the site is being used we may make adjustments to its content and design.
What Are People Saying About Your Mobile Website?
At the start of 2010 4.6 billion people globally had mobile phones2, 68% of the world's population. Increasingly those are going to be smartphones. That's an awfully big market to ignore.
Consider the social web on mobile devices. Here's the statistics from just Facebook3:
There are more than 200 million active users currently accessing Facebook through their mobile devices.
People that use Facebook on their mobile devices are twice as active on Facebook than non-mobile users.
There are more than 200 mobile operators in 60 countries working to deploy and promote Facebook mobile products
Twitter founder Evan Williams wrote on the company blog September 2, 20104 that mobile usage of the site has gone up 62% in just over four months, and 16% of all new Twitter users are starting out on mobile devices as opposed to web signups.
If you are in the hospitality or retail business this is extremely important. What happens when people go to your Facebook brand page, Twitter page, Foursquare, or Google search and click to go on your website? With the increase in mobile smartphone usage, it's becoming important for all businesses to include mobile web site design in marketing plans.
We are in the process of creating mobile web designs for existing and new website clients and welcome your comments and questions in the box below.
1 Yankee Group, as reported in Network World, October 26 2010.
2 International Telecommunication Union (the U.N. telecommunications agency).
3 Facebook Press Room Statistics 2010
4 Twitter Blog September 2, 2010