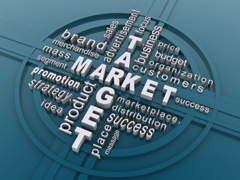 "In order to do a good job of those things that we decide to do, we must eliminate all of the unimportant opportunities." – Mike Markkula
This simple statement can help you gain clarity on where to begin to create your web, mobile, social and email presence and marketing. If you are wondering who Mike Markkula is, he wrote the first business plan for Apple and owned one-third of the company for providing capital, business and marketing expertise. He became a father figure to Steve Jobs, a man I greatly admire for his ability to focus and create brilliant products.
In 1997 when Steve returned to Apple to focus on saving the company it was making dozens of versions of the Macintosh. After a few weeks of meetings he declared that what was needed was to focus on one desktop and one portable computer for the consumer and one desktop and portable computer for the professional. All other products were to be cancelled.
At first there was push-back, but Steve told the board "I can make it work". We know the rest of the successful Apple turnaround story. Of course, Apple has many products now, but the lesson is, when you are in the trenches, fighting to survive, gain stability and sustainability you must focus. You must let go of lesser opportunities and focus on what will put your business on solid ground.
One of the things I noticed about Apple when I first started in social media was their lack of engagement in social media platforms. Perhaps Steve's focus at that time was on creating great products rather than getting distracted. Of course now the Apple Facebook page is active with 4.8 million fans and their Twitter APPSTORE will soon reach a million. Both are growing. I took a lesson from that and stepped back from social media to refocus on my business. This is my first "re-entry" post.
There is not much more that needs to be said here. My goal is to raise your awareness of the concept of focus and let you get to work on your own business focus. We welcome your comments, experiences, suggestions and questions.
(Credit for the Steve Jobs story and quote goes to Walter Issacson author of the book on the remarkable Steve Jobs
.)