Facebook Pages for business have got a new look. If you have received an invitation to upgrade you can click Preview and Take a Tour. Here's what happens when you do:

You can see you can upgrade the Page you are on, or if you are admin for multiple Business, you can upgrade all. I like to take them one at a time. Here's what the new Business Page looks like.  While you are in Tour mode, you can see what your Page will look like, but everyone else will see the old version of your Page until you Upgrade.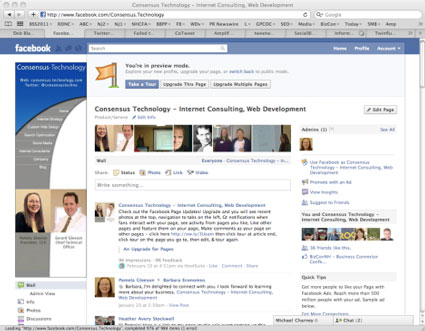 You can switch back by clicking the "switch back" link at the top of your Page, but once you have upgraded you cannot switch back. Also, the switch option is only for a limited time. Beginning March, 2011 your Page will be automatically upgraded.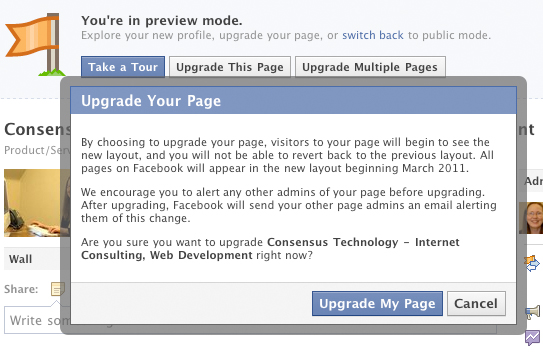 Let's start the tour to see what you get. You now have photos at the top of your Page, just like your Profile. However, unlike your personal profile, only photos you upload will show up here. Photos uploaded by your fans will not appear in this section.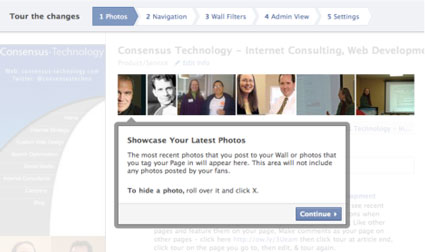 Before upgrading and therefore making the new Page changes public, you may want to make some changes or additions to your photos. If you don't have any…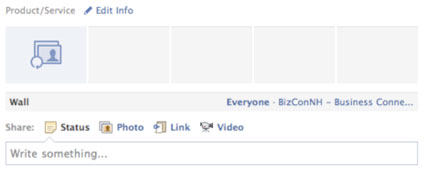 have only a few, or don't like the ones your have, this is your time to correct that.

If you want to remove a photo, hover over the photo and click the "x". You will not delete it from your photos, so you'll still be able to find it when you click on the photos link, but it will hide it from your Page. The photo selection comes from photos that were uploaded most recently. Here's an incentive to add photos to keep the Page fresh.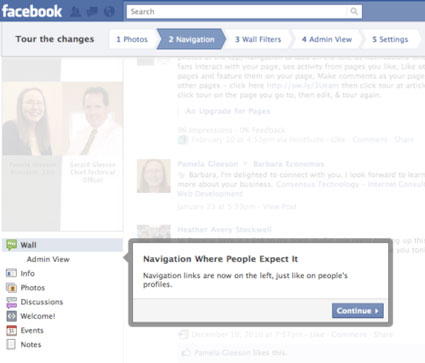 The navigation has moved to the left. This is good, because it's familiar… like your Personal Page. It's also good because usability studies show the majority of the people prefer left navigation to top navigation. You do lose the ability to have a permanent bit of info about your business or upcoming events here.  So if you want to promote something you can only use your profile image with a graphics or buy a Facebook ad. Slightly Annoying. The placement of that information on the old Page layout is shown below.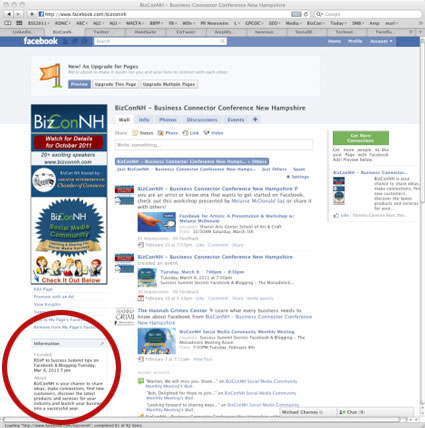 Here's a close-up of what I'm talking about. You could also put a clickable link there.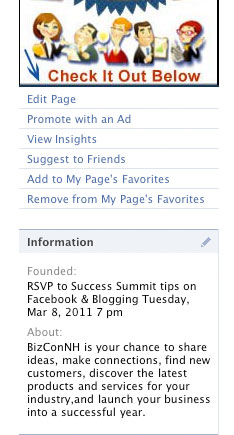 On with the Tour.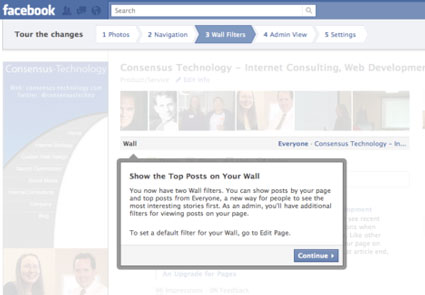 The filters are similar but different from the old ones. You could show only your posts before, or posts by everyone. Now you still can show only your posts, though this is counterintuitive to engagement. You really want people to post on your Page.
The other choice is interesting because instead of showing just Everyone in chronological order, you can see the most active posts on the top. This will keep you on your toes for engaging your fans, though if you do want a new post on top, it will need to be liked and have more comments. So old posts may show up before the posts you want to promote. A lot of admins don't like this and find it confusing. Luckily the admin can still see the posts in chronological order by clicking Admin View under your profile picture seen below. If you want to check your spam filter, click Hidden Posts, just to the right of Most Recent above the first post on your Page.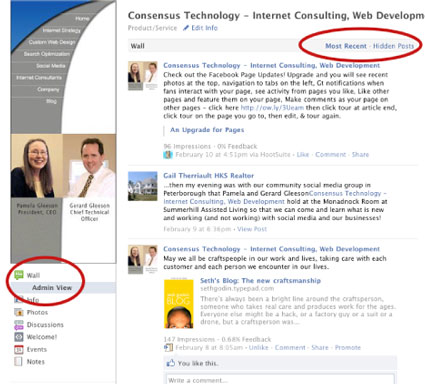 On to the Great! Admins rejoice! You now can post your Page on your own Personal Profile and other Public Pages and Profiles. Now we can see the faces of our friends  instead of them feeling the need to use a Business logo or image on their Personal Profile, or illegally creating two profiles, one personal and one for business, they no longer have to do that. Although this does allow you to promote your brand on other Pages, use it wisely or you may come off as being too much like spam. Always be respectful of other people's Pages.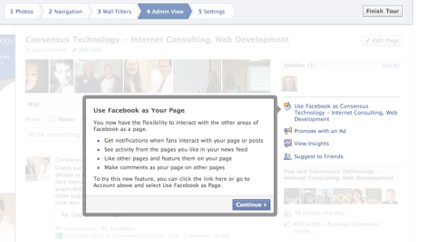 And there's more. You get notifications when fans interact, in case you don't check your Page every day or several times a day. When you click the "Use Facebook as [Your Page Name] you will get this Tour: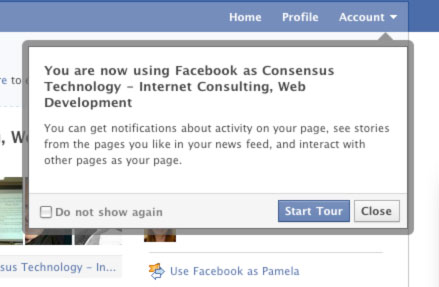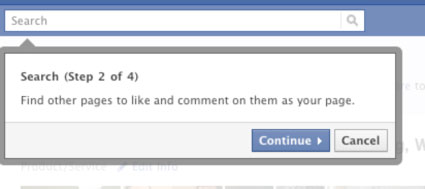 Admins, when you log in as your Page, you can see the activity of other Pages you have liked in your news feed. This is great to keep up with business news. If you have multiple Admins and you want to keep up together, this is an easy way to do it. Please note, that this shows up on your home News Feed, not on your Business Profile Page (that's right, when you are logged in as your Page and click the Profile button at the top right, you will bet to your Business "Profile" Page, not your Personal Profile. Now you can switch back to being logged in as yourself in account settings.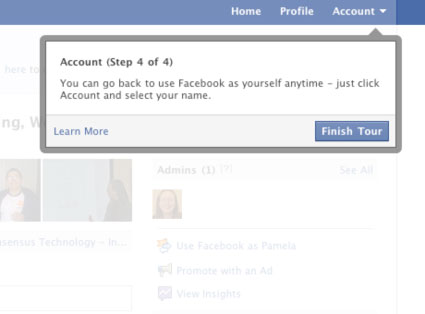 Or, you can just click the "Use Facebook as [Your Personal Profile Name] underneath your Admin photo.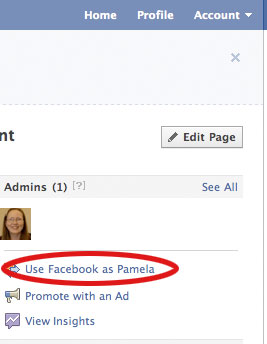 If are an admin, and want to promote certain Pages, you can feature them on your Page.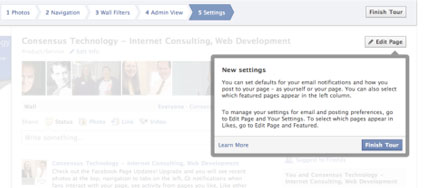 You first have to be logged in as yourself, not your Page. Next Like the Pages you want to feature. See instructions from Facebook on how to Like a Page below.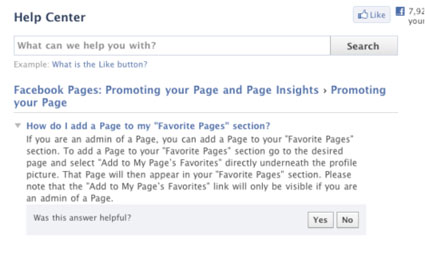 Once you Like a Page you can Feature it. Only five will show up in that section. If you Like 5 or fewer Pages they will all show up in the featured section automatically. First click on Edit Page at the top right of your Page:

You will be taken to your Settings page. Click on Featured and here's what you get: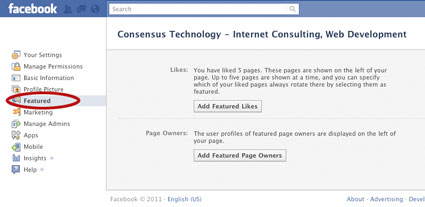 Now you can choose the Pages  you wish to feature. You may also feature Page owners (admins). This would make sense if you have multiple admins and want to recognize your top people. This will show their personal profile, so ask if they want to be featured first.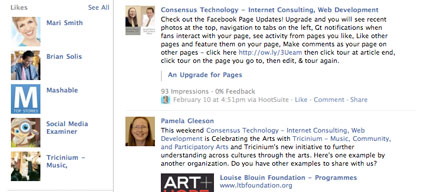 Here's one last tip. It can get confusing to remember if you are logged in as yourself or your Page. I find the easiest way to check is to click on the home button or Facebook logo and see which profile image shows up. Here, I'm logged in as Consensus Technology: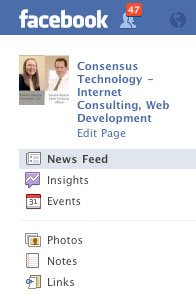 Let us know if you have any questions. We would love to help you. You can comment here or post your Facebook Page: facebook.com/consensustechnology. (If you've not yet like our Page, you will be taken to the Welcome! Page so you have a chance to do that, then go to the wall and ask your question.)